When it comes to the after season – the part before the offseason – I always do just what I like. Or I fulfil the challenges I set myself in the beginning of the season. This year one goal was to run 5k in less then 16 minutes. This is a 3 minutes and 11.9 seconds average pace. In the beginning of the year this was far away. My PB was at 3.19 average.
But then there was my knee injury and after 10 weeks of no running there was no real season left anyway. So my Coach and I just prepared for running fast 10k in Vienna and it worked really well: 34.40. Before the season this would have been my personal best. But in this season everything was different. So now I present to you: The story of the 15.42.
There was a nice and sunny day in the beginning of this years summer. I texted a friend of mine to support me at a running test. The program was 3k @ 3.25 and then 3k all out. It was the first time I wanted to test the Nike Alphafly. And so I did. The feeling just flashed me and after the 3k I just said to my friend: "I will run 10k for PB".  I increased my pace a bit and just hoped I can sustain the effort.
In the end: 33.40 on my Garmin. Just to make sure I ran additional 100m. So lets call it sub 34 for 10k. PB beaten by 60 seconds. But this was only the PB beginning.
After three triathlon races in 2020 in Munich and Vienna I was done with the tri season. Not that there was nothing in the tank, but there just no races. So I did move into the running season. The objective: Beating the 5k PB. I did it once already at the Davos Night run before the Vienna Triathlon. I managed to clock a 16.25 and that already was a huge success.
As Davos and Vienna were very good and there was the opportunity to prolong the season a bit, of course I did so. Small changes in the training plan, focus on a bit more speed in the legs and here we go. Two PB attempts in one week. Monday 5k on the track. Sunday a half marathon on the road. The objective: Smash my PB. Twice.
So on Monday my coach, a friend with the goal of sub 17 and I made it to the local track. The pictures in this blog are all from that day as another friend helped us out with taking pictures. Warming up started before 6pm as we wanted to start the solo-time trial at 6pm. Nearly made it as I ran to the bathroom just seconds before the full hour. 
The start was not like any other race. My coach was standing there with his phone, I with my watch and then he just counted down from three. Most un-entertaining start ever. Maybe running the 5k alone would be less entertaining …
But so I went off.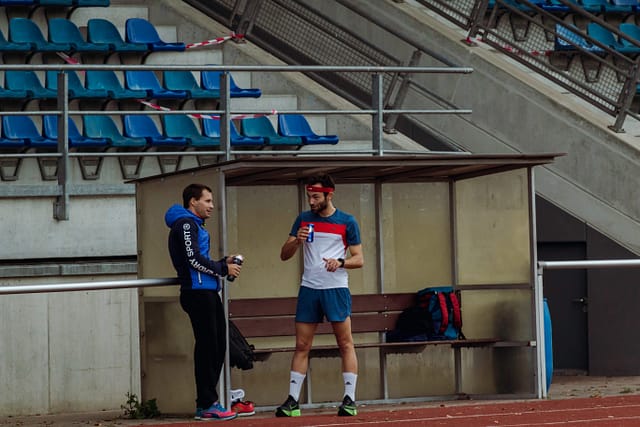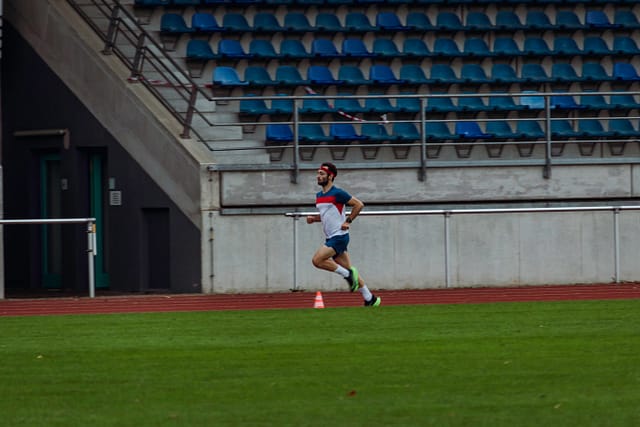 The goal: 76 seconds per lap.
And that was what I did. I banked in seconds early and never slowed down. 74 seconds for the first round. And then very consistent 75 and 76.
And for everyone loving details, as I am, here are the real splits with a short comment):
00:01:15 (Felt great, coach said 74 secs, easy)
00:01:16 (still great, still feeling good)
00:01:16 (First KM in 3.08: Amazing feeling)
00:01:14
00:01:16 (2 kms in 6.17)
00:01:16 (Push a bit again, breathing escalating slightly)
00:01:15 (1 second push hurst bad on 400)
00:01:15 (just 2k to go. Legs still feeling great)
00:01:16 (tried to push, but the Push was only keeping the pace)
00:01:16 (My typical suffer face came out)
00:01:13 (Coach said just one more lap, but it was two)
00:00:39 (~220m, Now it was just one more lap)
00:01:09 (Really pushed big time, hearth rate through the roof)
And that is the story of how I ran 5k in sub 16 minutes. 15.42 in the end to be precise.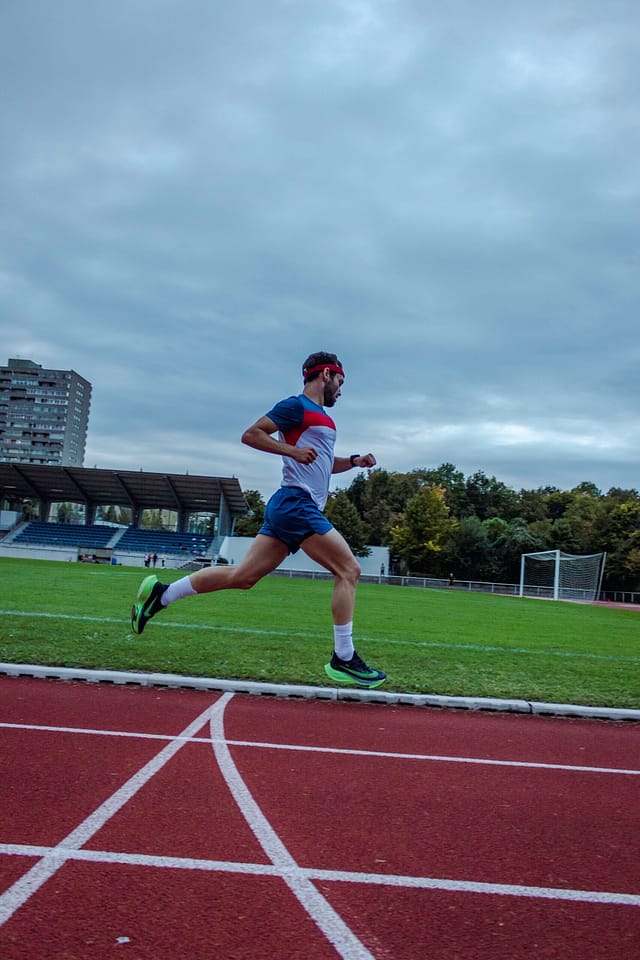 The Half Marathon: 1.11.31
With real confidence and good legs I was at the next starting line. This time a real one. Augsburgs half marathon really took place. With space and few to now spectators we took off on a perfect Sunday morning. It was really fresh before the start and I was considering running in a long shirt. But in the end I just lacked time to put it on. A bit in a hurry to get to the start line and it was perfect to run in Shirt and shorts.
The start was different as I really tried to pace the start. I did not run with the first group but we started off with 6 guys at 3.20 for the first K. Afterwards we slowed down a bit to 3.23 and kept going at that pace. Next break happened at around 5km: We split into 2 groups of 3 and with that I found "my break" of the day. Our goal: Reaching something between 1.12 and 1.13. And we knew we can do it.
The first 10k were a 33.52 split. 33.52 for real 10k. Basically a 10k PB within the half marathon. Was I too fast? Didn´t I proudly tell my coach: I will do it conservatively? Maybe. But Maybe I managed to hang on a couple of time. I managed to keep the elastic band to the other two in my groups. And with that we came to km 17. This was the moment I knew I had something left in the tank. The mentally hard ks were behind me. And they were consistent as a clock.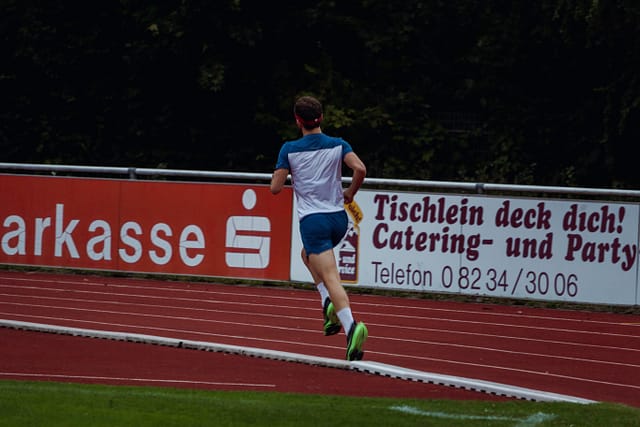 So with this little bit left in the tank I moved for my turn in the group (we really worked well together) and increased the speed. By 2 seconds per km in the beginning and the first guy dropped. Another 2 seconds faster for km 18 and I was alone. Well, actually I was passing people on their second of the three laps. And that kept the motivation up. For the last 1.5k I tried to run all out max effort. I have not been in the place, where you think you go fast(er), but actually you just keep your pace. I sprinted but only managed to gain another 2 seconds for km 20. And the last 1.1k were just hard. Sore as hell and done for the day I ran a 3.19 pace and finished. 
I saw my watch, I saw the official clock, and I was just flashed: 1 hour 11 minutes 31 seconds
The group, the weather, our timing and our splits, the last KM and the overall time in the end: It all came together. Really blasting run on that day. 
Also serval friends of mine beat their pbs and managed to run 1h15 and 1h19 and sub 2 hours. Really happy for them as well. Perfect day for all of us.
And with that two personal bests were dropped within a week. I really wanted to get the 5k PB and I really enjoyed adding the half marathon PB there as well. It was a pleasure to run that fast. And since the half marathon I have done nothing. I enjoy my offseason now and I am happy to start again next week. 
And my next objective is clear. I want to ride an orange painted Shiv TT in 2021 in Kona. And I will do every workout on the trainer and the treadmill to make this work. See you on the Zwift Tri Academy this year.
Tom